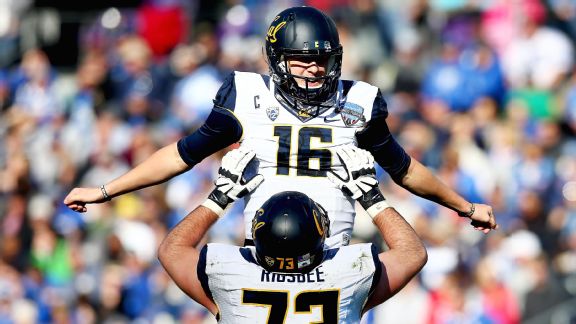 We're officially ONE week away from the 2016 NFL Draft! It feels like just yesterday that I was staring at a bunch of blank spreadsheets. However, here we are and things are already heating up! The Los Angeles Rams make a splash by trading with the Tennessee Titans for the first overall pick and then just earlier today, the Philadelphia Eagles trade five draft selections to the Cleveland Browns for the second overall pick. Yes, the same Philadelphia Eagles that signed quarterback, Sam Bradford, to a two-year, $36 million dollar ($26 million guaranteed) this off-season. Anyways, let's take a look at what else could happen in this draft…PLUS a mock trade! Any questions, send me a tweet on Twitter @DowntownTMSNX!
1. Los Angeles Rams (from Tennessee) — QB from California — Jared Goff — He'll become the consensus first overall pick for many draft experts. Small hands won't be a factor for the Rams decision. They'll get a quarterback that plays the game like Ryan Tannehill but could play it like a taller version of Drew Brees, down the line.
2. Philadelphia Eagles (from Cleveland) — QB from North Dakota State — Carson Wentz — Almost seems like Wentz is a Doug Pederson guy. I'm sure the Eagles are starting to realize that they made a bad decision by paying Sam Bradford all the money in the world. Wentz has a big body frame like Big Ben but in my opinion, his style of play resembles Matt Ryan. The best thing is that Wentz won't have to start right away with how much quarterback depth is in Philadelphia.
3. San Diego Chargers — OT from Ole Miss — Laremy Tunsil — As nice of an addition that Jalen Ramsey would be, the Chargers should go with Tunsil. He's a sure thing for a left tackle and has the same skill-set that Orlando Pace had coming into the draft.
4. Dallas Cowboys — RB from Ohio State — Ezekiel Elliot — It's Jerry's World. If you've got a quarterback with many injury concerns, you have to protect him, right? Imagine how good Elliot could be in his first year behind that offensive line. With this pick, they move into contention to win the NFC East, they improve their odds to keep their quarterback healthy & get the potential rookie of the year. If they don't go Elliot, they have to go with either Joey Bosa or Ramsey.
5. Jacksonville Jaguars — FS from Florida State — Jalen Ramsey — I'd be shocked if Ramsey is here but if he is, the Jaguars have to take him. Ramsey doesn't have injury risks like Myles Jack and he could come in and play anywhere in their secondary. He also allows the Jaguars insurance if players like Jonathan Cyprien or Prince Amukamara hit the free-agent market.
6. Baltimore Ravens — DE from Ohio State — Joey Bosa — How can they not take him? Best player available and he'd be paired with Terrell Suggs. Quarterbacks will be more nervous now, than ever before.
7. San Francisco 49ers — DT from Oregon — DeForest Buckner — You could make a case for Ronnie Stanley or Myles Jack but Chip Kelly and his draft record, speak otherwise. He'll take a chance on a guy, especially if he's an Oregon Duck. Buckner will join his former teammate, Arik Armstead and the 49ers will have defensive plans to stop division running backs like Todd Gurley, David Johnson & Thomas Rawls.
8. Cleveland Browns (from Philadelphia via Miami) — OLB from UCLA — Myles Jack — The Browns will get the chance to take either Myles Jack or Ronnie Stanley. Two players that play opposite sides of the football and they could be in a tougher spot now than when they were picking second overall. Either way, smart trade by them and they'll take a player to help improve their defense. Myles Jack has a lot of upside, despite his injuries. I think he's got a strong chance of being a bust but he fills a huge need for the Browns poor defense.
9. Tennessee Titans (Mock Trade w/Tampa Bay) — OT from Notre Dame — Ronnie Stanley — There isn't a team in this draft that has more leverage to move into the top 10 than the Titans. They've got plenty of juicy draft picks and they'll use a couple of them to lock up their future left tackle, Ronnie Stanley.
10. New York Giants — WR from Ole Miss – Laquon Treadwell — Imagine the duo of OBJ and Treadwell. An offensive minded head coach gives me every more reason to believe that this will be the pick. Especially after a heavy spending off-season on defense.
11. Chicago Bears — DT from Alabama — AShawn Robinson — Maybe the Bears take Jack Conklin or maybe they continue to add to their defense. With a player like Robinson, it would be hard to pass him up. He can provide a spark with the Bears poor pass rush but he'd also play a big part in stopping the run. How could you not want that when you play the offensive firepower from the NFC North?
12. New Orleans Saints — CB from Florida — Vernon Haergraves — With Robinson gone, the Saints biggest need becomes their first round pick. This secondary was ranked worst in the league last year and Haergraves should help improve that.
13. Miami Dolphins (from Philadelphia) — OLB from Ohio State — Darron Lee — I view Kiko Alonso as an ILB so that leaves this team with a need at OLB. Lee is the best linebacker in this draft and he becomes an automatic pick for the Dolphins, if he's available.
14. Oakland Raiders — DE from Clemson — Shaq Lawson — There's a lot to like about Lawson and the way he comes off the edge. He doesn't have great speed but he's physical and is great in stuffing the run. Reminds me of Michael Bennett of the Seahawks but he's got Justin Tuck type of upside.
15. Tampa Bay Buccaneers (Mock Trade w/Tennessee) — ILB from Alabama — Reggie Ragland –– One way to make Lavonte David happy again is bring in someone that will play alongside him. David and Ragland would be great at stopping the run, together. Cornerback or left tackle would be an option for the Bucs at this spot, as well.
16. Detroit Lions — OT from Michigan State — Jack Conklin — Protecting Matthew Stafford should be the main goal for the Lions this season, especially as he works without Calvin Johnson. Conklin falls to the Lions and things begin to look somewhat brighter on offense.
17. Atlanta Falcons — DT from Louisville — Sheldon Rankins — I think taking the best player available is the smart move for the Falcons at this point. Receiver or an offensive lineman, make sense as well, however, Rankins has tremendous upside. Elusive player who will help at stopping the run game. Rankins is only going to get better, especially when paired with Vic Beasley.
18. Indianapolis Colts — OT from Ohio State — Taylor Decker — The Colts have a solid left tackle in Anthony Castonzo but they're weak on the right side. The Colts get a starting right tackle from day one and a punishing run blocker. Decker looks to be an ideal fit for the Colts, if he's on the board.
19. Buffalo Bills — DE from Oklahoma State — Emmanuel Ogbah — One of the most productive edge rushers in college last year. What he lacks in height, he makes up for in power and quickness. Great edge player with run stopping ability. Fills a huge need for the Bills.
20. New York Jets — QB from Memphis — Paxton Lynch — Personally, I'd prefer Cook over Lynch but there's a lot of buzz about Lynch. Even if they do sign Brian Hoyer, the Jets need another quarterback not named Geno Smith. Lynch is either boom or bust, nothing in between.
21. Washington Redskins — CB from Ohio State — Eli Apple — With three very good defensive tackles off the board, the Redskins could play it safe with Kenny Clark or Vernon Butler. Potentially, they could roll the dice on Robert Nkemdiche. I think they'll go with a position that holds a lot of value and is still very safe. Apple is a good press corner who is still very raw. Could become a stud in a weak secondary.
22. Houston Texans — WR from TCU — Josh Doctson — They signed a lot of players for their offense and I don't think they'll stop there. Doctson is a dynamic player who has a lot of upside, especially when he'll get the chance to play next to DeAndre Hopkins.
23. Minnesota Vikings — WR from Notre Dame — Will Fuller — It's safe to say that Cordarrelle Patterson has been a bust. Stefon Diggs was a nice selection last year while Charles Johnson is still unproven. Fuller can help eliminate some of the receiver woes in Minnesota with his game-changing speed, soft hands and adjustment for the football.
24. Cincinnati Bengals — WR from Baylor — Corey Coleman — After losing Mohamed Sanu & Marvin Jones, you have to improve your receiving core. Coleman will be a nice compliment to AJ Green and could become the sleeper pick of this first round.
25. Pittsburgh Steelers — CB from Houston — William Jackson III — There are a lot of questions regarding the Steelers decision to cut cornerback, Cortez Allen. Their biggest need going into the draft, just got bigger. Jackson could provide a spark in their secondary, as he's physical player who plays the ball well in the air.
26. Seattle Seahawks — OT from Indiana — Jason Spriggs — With Russell Okung representing himself and getting a terrible contract from the Broncos, the Seahawks have a huge need at left tackle. Spriggs is a zone blocking specialist who was highly successful and productive at Indiana. He should protect Russell Wilson the same way he protected Nate Sudfeld.
27. Green Bay Packers — DE/OLB from Georgia — Leonard Floyd — I wouldn't be surprised if Kenny Clark or Vernon Butler were the selection here but with the defensive tackle position being so deep this year, the Packers go with an edge rusher. Floyd is raw but he'll be paired with one of the best edge rushers in the league, Clay Matthews. Floyd's upside becomes huge with this selection.
28. Kansas City Chiefs — CB from from Clemson — Mackensie Alexander — After losing Sean Smith, the Chiefs need another press cornerback. Alexander is just that and more. He's probably the best man coverage cornerback in the draft and possesses all the skills needed to become a playmaker, especially next to Marcus Peters.
29. Arizona Cardinals — DT from Ole Miss — Robert Nkemdiche — They've taken their chances on other players that have character issues and it's paid off. The Cardinals will go into this pick with the same mindset. Odds are, Nkemdiche will struggle with his off the field issues but that's just my take. However, I hope I'm wrong because if I'm wrong, he could become a stud next to Chandler Jones.
30. Carolina Panthers — S from Ohio State — Vonn Bell — With cornerbacks like Jackson and Alexander off the board, the Panthers will try to address their safety position. Vonn Bell is sneaking up draft boards, kind of like Jimmy Ward did in the 2014 NFL Draft. Bell has a lot of potential and with the Panthers defense, he could become a stud. Especially, after the team shocked the world and pulled the franchise tag from Josh Norman — who is now a free agent.
31. Denver Broncos — QB from Michigan State — Connor Cook — How could this not be the pick? I'd prefer to have Connor Cook over Mark Sanchez or Brian Hoyer (scheduled for a visit with Denver over the weekend). Cook has a lot of upside and probably could become a day one starter, however, having him ride the bench for a season is your best bet.
*The Patriots forfeited their 2016 First Round pick because of Deflategate*