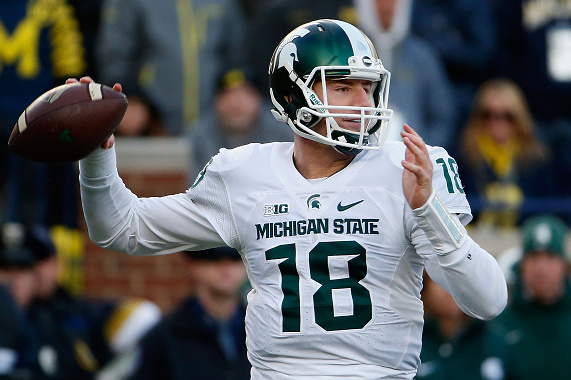 After an unsuccessful night in round one, I'll attempt the second round of tonight's NFL Draft. Yesterday I only had three selections correct in the first round and wasn't expecting Laremy Tunsil to fall that far or the Cowboys to take Ezekiel Elliot. Either way, here we go with day two!
32. Cleveland Browns — QB from Michigan State — Connor Cook — This would turn out to be a very good draft for the Browns, if they make this pick. They snagged Corey Coleman in the first round, they've gathered a ton of picks and now they get their future quarterback. It's funny how another Spartan quarterback will backup RGIII, until he gets hurt again.
33. Tennessee Titans — DE from Clemson — Kevin Dodd — I was shocked that Dodd didn't go in the first round. There was speculation of how much his stock was rising and here he is, still available. He's in the green room for round two but not for long. Another great pick for the Titans.
34. Dallas Cowboys — DE from Oklahoma State — Emmanuel Ogbah — There's been grumblings that the Cowboys could take a quarterback here. If Cook is available then yes, if not, they wait until later in this second round and move up to take either Prescott or Hackeneberg. For now, they go with Ogbah, one of my favorite ends in the draft.
35. San Diego Chargers — OT from Indiana — Jason Spriggs — Home run draft for the Chargers. They get Bosa and snag a first round talent left tackle. Spriggs would help with pass protection immediately and would eventually help in the run game as he improves.
36. Baltimore Ravens — CB from Clemson — Mackensie Alexander — Solid first round selection for the Ravens by snagging Ronnie Stanley. I'm a bit surprised that Artie Burns went in front of Alexander but he's good cornerback who has a lot of upside. Putting him in a secondary that now has Eric Weddle behind him, will do him wonders.
37. Kansas City Chiefs — CB from Virginia Tech — Kendall Fuller — After losing Sean Smith, the Chiefs move back in the draft, gather three extra picks and take a cornerback. Fuller has a lot of upside as he's a physical player but he's slow at the hips. He'll get better at times and will pair up nicely with Marcus Peters.
38. Jacksonville Jaguars — OLB from UCLA — Myles Jack — Many teams could be trading up to grab Myles Jack. His knee is an issue but he's a top 5 talent for what he does on the field. I question his pursuit and his ability to tackle but if he's here for the Jaguars, he's a steal.
39. Tampa Bay Buccaneers — DT from Alabama — Jarran Reed — I knew that Reed would slip into the second round but I still mocked him to the Packers in round one. However, he's here and the Buccaneers will take him to help Gerald McCoy.
40. New York Giants — ILB from Alabama — Reggie Ragland — The linebacking core of the Giants is awful. They need as much help as they can get so they'll take Ragland to hope he picks up the slack for the lack of production at this position. Plus, the Giants did take a former Alabama product last year in the second round with Landon Collins, don't be surprised if they do it again.
41. Chicago Bears — OT from Auburn — Shonn Coleman — The Bears moved up to get an edge rusher in Leonard Floyd with their first round pick. Now they snag a developing offensive tackle who will help immediately as the Bears are thin at the position.
42. Miami Dolphins — RB from Alabama — Derrick Henry — How could they not grab a running back here? They lose Lamar Miller and have no sure thing in their backfield. Henry would run well behind that offensive line.
43. Tennessee Titans — SS from Ohio State — Vonn Bell — The Titans need some secondary help and they get a safety that I had a first round grade on. Bell is an immediate starter in the NFL and should hold a safety spot for the
44. Oakland Raiders — DT from Alabama — AShawn Robinson — I'm shocked that Robinson falls this far but he's got tremendous upside. The Raiders continue to go defensive heavy in this draft and have hopes that Robinson will help stop the run.
45. Tennessee Titans — WR from Oklahoma — Sterling Shepard — The Titans are stealing this draft with their four picks in the first 45 selections. They snag a receiver that I really like in Sterling Shepard who is NFL ready and will fit nicely along Dorial Green-Beckham.
46. Detroit Lions — CB from Maryland — Sean Davis — There would be a lot of potential defensive lineman at this selection or even a trade up to get a linebacker. However, I'm not mocking any trade for the second round and have the Lions staying put to grab a cornerback on the rise. Davis has size and speed to fit his pro comparison, Darius Slay.
47. New Orleans Saints — OG from Kansas State — Cody Whitehair — After cutting Jahri Evans, the Saints have a big need for interior offensive lineman. There isn't a guard I like more in this draft than Cody Whitehair. He's versatile and compares to a better version of Cameron Erving.
48. Indianapolis Colts — DT from Baylor — Andrew Billings — They'll stick to the trenches with this pick. After grabbing the best center in the draft, they'll snag one of the better defensive tackles. I'm not sold on Billings because he lacks length and speed but he's gap plugger and would be a perfect nose tackle for the Colts defense.
49. Buffalo Bills — TE from Arkansas — Hunter Henry — After grabbing their edge rusher, the Bills could use a linebacker. With no linebacker worth selecting at this point, they'll take a luxury pick. Henry isn't a need since the team has Charles Clay but they add another weapon to their offense for Tyrod Taylor.
50. Atlanta Falcons — OG from Arizona State — Christian Westerman — There's a huge need for the Falcons and their interior offensive line. Westerman has tremendous upside and was my second ranked guard in the draft. He'll be the third guard off the board and should be a starter alongside Alex Mack, for years to come.
51. New York Jets — OT from Texas Tech — Le'Raven Clark — Adding Darron Lee is what the Jets needed for their defense but they need some offensive line depth. They took a Red Raider a few years back in Jace Amaro and they'll take one here as well. Clark has the footwork like a left tackle but blocks like a right tackle. He'll play on the right side for now but needs some polishing on his run blocking.
52. Houston Texans — FS from Clemson — T.J. Green — The rumor mill was filled with the Texans trying to grab Karl Joseph last night. With the Texans looking into taking a safety, they'll grab one that's extremely raw here. He's got the measurable's and speed but he needs to become a better tackler before I throw him out there on Sunday's.
53. Washington Redskins — DT from Mississippi State — Chris Jones — I've been watching more film on Jones over the last few weeks and I like what I've seen. He's a big body that moves well and is fluid in space. I think he's got upside for a team that needs help on their defensive line and that's something the Redskins need.
54. Minnesota Vikings — DE from Florida — Jonathan Bullard — After grabbing a receiver in the first round, the Vikings will add to their pass rush. There's a lot to like about Bullard coming off the edge. He's a better run stopper than getting after the quarterback but he still does both, very well.
55. Cincinnati Bengals — WR from Ohio State — Michael Thomas — You'd have to think they grab a wide receiver at this point in the draft, especially after striking out in the first round.
56. Seattle Seahawks — DE from Eastern Kentucky — Noah Spence — They've taken chances on guys like this before, they'll do it again.
57. Green Bay Packers — ILB from Missouri — Kentrell Brothers — The Packers want to put Clay Matthews off the edge more. To do that, you need to replace him on the inside and Brothers would be a perfect fit.
58. Pittsburgh Steelers — OLB from Boise State — Kamalei Correa — Somewhat undersized to be a 4-3 defensive end but he'd be a perfect fit in the Steelers 3-4 defense. Correa won't be a full-time starter in the NFL but he's got upside to become one, especially in Pittsburgh.
59. Kansas City Chiefs — WR from Colorado State — Rashard Higgins — I'd be shocked if he's on the board but I think he could be. If so, the Chiefs get a huge need as they've struggled at receiver for some time.
60. New England Patriots — DE from Michigan State — Shilque Calhoun — There's a chance that Calhoun falls down the draft board in the second round but I don't think he falls out of it. The Patriots traded Chandler Jones and cut Dominque Easley this off-season. If he's there they won't hesitate in taking Calhoun.
61. New England Patriots — CB from Baylor — Xavien Howard — It's always a defensive heavy draft for the Patriots and I don't see it being any different this year. Howard won't need to play right away but he'll develop into a very good starter at the next level.
62. Carolina Panthers — WR from Pittsburgh — Tyler Boyd — After another cornerback goes in front of them, the Panthers will take a receiver to compliment Kelvin Benjamin.
63. Denver Broncos — DT from Penn State — Austin Johnson — They're thin up front on their defensive line, especially on the interior. Johnson has great upside and is an ideal fit for the 3-4 scheme.